10 Mompreneur Businesses To Support This Mother's Day
As a mom to a 7 year-old busy body, I have first-hand experience knowing how hard it is to raise a child while building a business at the same time. If you're a mompreneur too, maybe you can relate to some of these challenges: 
Feeling guilty when trying to work on your business with your kids around and having to rely on the "electronic babysitter" (tv, video games) to keep them busy just long enough so you can get an urgent proposal sent out to a potential client.
Feeling like you just spent your last ounce of energy taking your child to a play date or kids birthday party and knowing that you will need to stay up late to catch up (as I am writing this blog at 11 PM) with the work that is piling up.
Having to spend your weekends working, when it's a beautiful sunny day outside and feeling guilty (again) because you can't take your child to the park.
Having to choose between spending time with your child or working on your business.
Moms do so much to give their all, do their best while being loving and nurturing but also strong and successful. This Mother's Day I want to give a shout out to these wonderful, amazing mamas who are kicking a$$ and making $hit happen. 
Here are 10 Mompreneur Businesses To Support This Mother's Day
Totem Design House is an Indigenous-owned design company based in Comox, British Columbia, Canada. It was founded by Haida and Cree siblings Erin and Jesse Brillon, who grew up surrounded by the vibrant world of Northwest Coast native art.
The company's mission is to celebrate and share Indigenous cultures and traditions through their designs. 
Totem Design House offers a wide range of products, including clothing, jewelry, home decor, wellness products and art prints. All of their products are made by Indigenous artists and designers, with a focus on sustainability and ethical production practices.
Totem Design House produces an exclusive line of works by acclaimed Northwest Coast artist, Andy Everson.   
Why you should support this business: This is a truly family-run business, Erin's brother Jesse's designs are featured on many of the apparel like their women's clothing line. Her daughter Marlo helps with the screen printing but also is a very talented artist who does wood carving. Totem Design House operates as eco-friendly as possible and supports the local economy by sourcing as locally as possible. In addition to their design work, they believe in giving back. As a social enterprise they donate 10% of profits to Copper Legacy Indigenous Empowerment Society, which supports a variety of Indigenous programs.
As the founder of Mountain Top Consulting, Jennifer Kolbuc is a social media strategist with a heart. She has spent over 15 years working in digital marketing with additional experience in public relations, packaged goods marketing, and working for non-profits (Vancouver Aquarium). Having worked extensively with large brands (Fairmont Hotels), her current passion lies in bringing her expertise to micro-sized businesses. With her combined experience, she helps her clients find solutions that fit their needs and budget.
Jen's primary focus is helping clients find their voice on social media and developing a comprehensive digital marketing strategy to enhance their brand's growth. Mountain Top Consulting reviews their clients' website, landing pages, email marketing and lead magnets to make sure that their social media is set up to funnel people where they need them to go for their business.
Why you should support this business: Jen has been working in social media for over a decade. She takes a very straight-forward no BS approach to her clients digital marketing strategy where they can see results immediately. She's a mom to 2 little boys, but you wouldn't know it from looking at her social media account. She keeps everything looking very professional and she provides super helpful, bite-sized nuggets that are very actionable. Go check out her IG for great social media tips today!
REX Marketing + Design is an award-winning full-service agency that operates with a distinctive approach. Distinguishing itself as a leader in the field of brand differentiation, the agency empowers companies to achieve greater success by remodeling their brand foundation, leading to enhanced marketing outcomes and significant business impact.
Seeking growth through effective marketing strategies, clients benefit from the Full Business Transformation™ offered by REX Marketing. This transformation encompasses various aspects, including the development of a clear vision, the alignment of teams and leadership, the creation of marketing initiatives that captivate brand enthusiasts, and comprehensive integration support. 
Positioned as a strategy-oriented Branding and Marketing Agency based in Vancouver, REX Marketing + Design Inc. has established itself as a pioneer in Brand Strategy, Brand Positioning Services, Marketing Planning, Digital Marketing, and Creative Services.
Why you should support this business: This busy mom of 2, is an accomplished Business, Brand, and Marketing Strategist who has been shaping category-leading brands and providing solutions for business challenges through strategic narratives for over 2 decades. As the Founder and CEO of REX Marketing + Design Inc., she has transformed the agency into an internationally acclaimed company, earning numerous awards and recognition. REX has been voted as a top Brand agency in Canada, and BC's Best Marketer by Small Business BC. This super mom has been known to (and I've witnessed first-hand) bring her infant daughter into client meetings, while looking polished and totally pulled together. She's proven that it's possible to build a successful business while raising kids at the same time.  
Yulu PR is an award-winning communications firm focused on social and environmental impact. They partner with global brands and innovative organizations to amplify their impact and inspire systemic change. Yulu's talented team specializes in media interviews, influencer marketing, strategic partnerships, event planning, brand purpose strategies, and social responsibility plans. Their campaigns make a real difference. Services offered include strategic communications, impact consulting, social purpose strategy, social impact PR, environmental and non-profit PR. Yulu's expertise ensures effective messaging and audience reach. They provide guidance to organizations striving for meaningful change and help brands align values with actions. With a focus on sustainability and social welfare, Yulu champions impactful causes. Through their collaboration, clients can make a lasting impact on society and the environment. 
Why you should support this business: Yulu has been named one of Canada's top small and medium employers. Here are some of the reasons why Yulu Public Relations Inc. was selected as one of Canada's Top Small & Medium Employers 2023, as per the Canada's Top Employers editorial team:
Yulu Public Relations nearly doubled in size in the past year, increasing its full-time workforce by over 40 percent. The company values the contributions of its employees and ensures they share in its financial success through profit-sharing and year-end bonuses.

 

Yulu Public Relations demonstrates its commitment to supporting employees who wish to start a family. They provide generous maternity and parental leave top-up for new and adoptive parents, covering up to 100 percent of their salary for a period of up to 26 weeks. Additionally, the company recognizes the importance of emergency child care and offers a stipend of $100 per day for up to five days per year.

 

They partner with socially innovative organizations that see beyond the bottom line and think beyond the status quo.

 

They are a B Corp certified company. B Corp certification signals to potential hires that the organization walks the walk when it comes to making an impact. That they care about their people and the planet as much as they care about profits.
Granted Consulting helps small and medium-sized businesses in Canada leverage grant funding for growth. They develop grant strategies for organizations so that Canadian grants can be accessed as they expand. Their expert grant consultants keep clients informed of new programs that they are eligible for and help them manage the application process from research to final reporting. They offer full service and self-service options, their GetGranted proprietary grant portal empowers businesses to access grant programs independently. Granted serves ALL Canadian businesses to ensure they have the tools they need to leverage grants successfully.
Why you should support this business: Stephanie Sang, a proud Vancouverite defied her family's entrepreneurial background and initially rejected the path of business ownership. Armed with a degree in international marketing, she gained experience across diverse sectors such as tourism and technology. Eventually, Stephanie secured a prominent position as VP at an international manufacturing company in Taiwan. After a decade of thriving amidst the fast-paced Asian lifestyle and achieving remarkable milestones, including advancing her family business to the pre-IPO stage, Stephanie made the decision to return to Vancouver in 2010. It was then that she founded Granted Consulting, driven by her role as the head 'grant angel.' Stephanie and her team are dedicated to making a significant impact on businesses in British Columbia by effectively utilizing grant opportunities. Her vision is to cultivate a business that seamlessly combines cutting-edge technology with top-tier service to cater to the ever-evolving market demands.
Fairware is a full-service promotional merchandise company that specializes in ethically sourced and sustainable promotional products. They offer a comprehensive range of services to help businesses create impactful marketing campaigns that align with their values. As a founding B Corp, Fairware is committed to using business as a force for good.
Fairware acts as brand guardians, ensuring that the promotional products they provide are in line with the client's values and contribute to their marketing goals. They are recognized as experts in sustainable and ethically sourced promotional items in North America.
Fairware goes beyond simply supplying products. They offer campaign ideas for sustainable behavior change, conduct product and material research, and have a robust framework for working with their supplier partners. This ensures that clients can trust the products they put their brand on.
Fairware's approach revolves around prioritizing strategy over products. By understanding the client's objectives, they create a customized assortment of promotional merchandise to support their marketing and campaign goals. Many leading sustainable brands in North America trust Fairware.
As a founding B Corp, Fairware is committed to utilizing business as a force for good, actively embracing its responsibility to make positive social and environmental impacts.
Why you should support this business: Their Workplace Code of Conduct establishes labor standards aimed at achieving decent and humane working conditions. These standards are based on internationally recognized guidelines from the International Labor Organization and widely accepted good labor practices. Drawing inspiration from the Fair Labor Association and the Promotional Product Association International, the Code of Conduct serves as a framework for affiliated companies. It mandates their compliance with relevant laws and regulations in the countries where their workers are employed, as well as the implementation of the Code in their facilities. In cases of conflicting standards, these companies are expected to prioritize the highest standard as a guiding principle. 
Suzanne Siemens and Madeleine Shaw – Co-founders, Aisle (B Corp)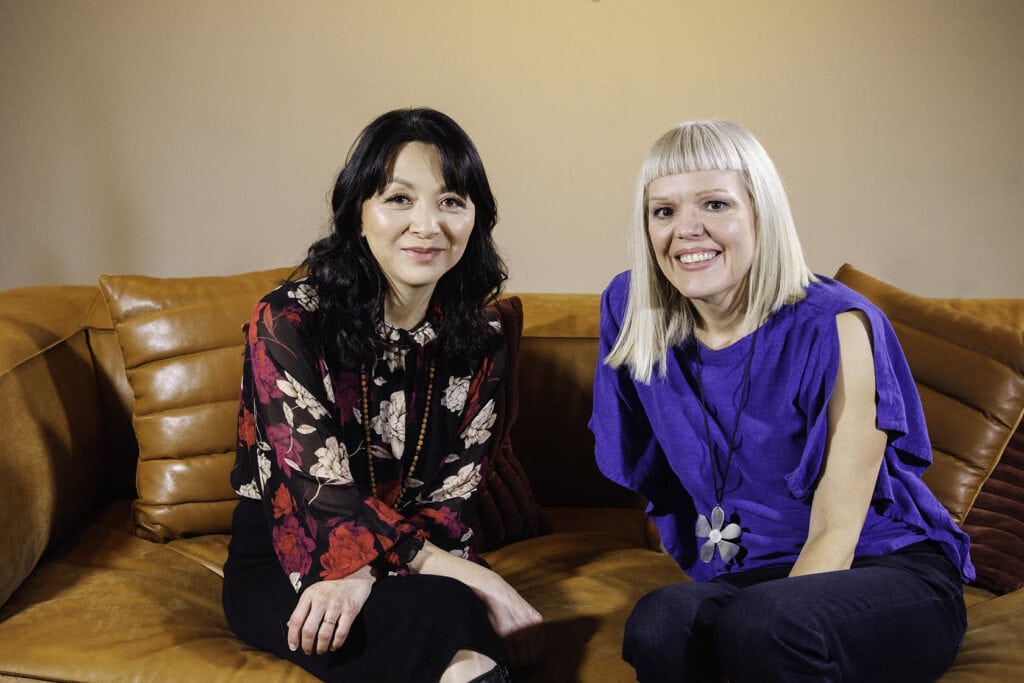 Aisle, formerly known as Lunapads, is a business based in Vancouver, British Columbia, Canada. It specializes in the manufacturing of washable feminine hygiene products, which include cloth menstrual pads, period underwear, and menstrual cups.
Having been established in 1993, Aisle emerged as one of the pioneering companies globally that introduced modern reusable period products to the general public. With three decades of experience, the quality of their washable pads and period underwear has only improved over time.
Aisle prioritizes both comfort and performance when designing their products. Recognizing the importance of true sustainability, they strive to create items that not only benefit the user but also contribute to the well-being of the planet. Their collection of eco-friendly reusables is not only fashionable and functional but also easy to wear. Aisle firmly believes that individuals who menstruate deserve products that not only provide a sense of comfort but also fit well and never fail to deliver.
To ensure their products meet their stringent standards of performance and environmental impact, Aisle subjects them to laboratory testing and third-party verification. By paying meticulous attention to every detail, they aim to bring ease and comfort to the lives of their customers, enabling them to live better and have a more comfortable menstruation experience.
Why you should support this business: Being a B Corp means Aisle has undertaken a rigorous third-party assessment that grades the business on every aspect of its social and environmental impact. They actively engage in practices such as weighing their garbage, thoroughly vetting suppliers, and actively contributing to their community in various ways. From their inception, Aisle has been dedicated to social impact, striving to eliminate patriarchal norms from the period care industry. Through the process of B Corp assessment, they continuously improve and enhance their social impact efforts with each recertification.
Aisle has achieved a remarkable milestone, being honored for four consecutive years as one of the top 10% of all B Corps worldwide. This prestigious recognition, known as "Best for The World," acknowledges their exceptional commitment to social and environmental responsibility. Consequently, Aisle proudly maintains its position as the leading period care B Corp globally, setting a benchmark for others in the industry.
Aisle co-founder Madeleine Shaw just launched a co-working space in Vancouver, BC to help parents manage work/life balance. Nestworks is a co-working community that offers childmiding for kids ages 16 months to 5 years in a relaxed and modern environment.
Mackenzie Yeates – Co-founder & Chief Brand Officer, Kotn (B Corp)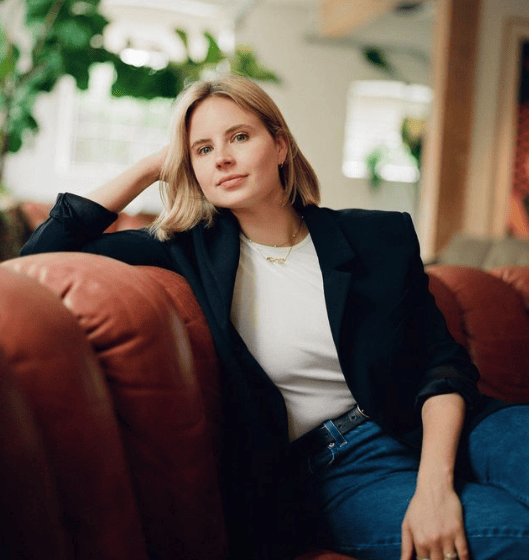 Kotn started with a simple goal—to create the perfect t-shirt. The founders envisioned a shirt that would excel in terms of quality, affordability, and ethical production practices. Over time, their vision materialized, and Kotn emerged as a certified B Corporation, recognized as being Best for the World™. Amongst apparel brands in North America, Kotn secured the fourth-highest B Impact Score, further solidifying its commitment to sustainable practices.
As the company grew, it remained steadfast in its dedication to making a positive impact on society. With every customer order, Kotn made deliberate investments in various areas, including job creation, infrastructure development, system enhancements, and educational initiatives. These endeavors aimed to alleviate poverty and foster shared, sustainable growth within the communities they served.
Kotn's success not only stemmed from its dedication to creating exceptional products but also from its unwavering commitment to social and environmental responsibility. By prioritizing the well-being of its workers and the communities it operated in, Kotn proved that it was possible to merge business success with meaningful contributions to society. 
Why you should support this business: Kotn, a purpose-driven brand for home and clothing, is dedicated to crafting long lasting products and fostering thriving communities. By adopting direct trade practices and a grassroots approach to product development, Kotn sources its raw cotton directly from small-scale farmers in Egypt. They collaborate closely with ethically-operated facilities to ensure equitable wages, fair treatment across the supply chain, competitive prices for customers, and complete transparency from farm to hanger. Furthermore, a portion of every purchase contributes to job creation, infrastructure development, systems improvement, and education initiatives. This commitment has already resulted in the establishment of 10 primary schools and the construction of 7 vital projects. 
Tammi Relyea – Founder, BRA-sériē , WO3
A passionate, energetic and visionary mompreneur, Tammi Relyea is on a mission: to reinvent the bra strap!
Inspired by the countless women who asked, "What do I do with these boring bra straps?" Tammi saw the need to evolve the bra strap from a functional necessity into a stylish fashion accessory. In 2017, she launched her first Box Collections — introducing women to her innovative brand called BRA-sériē featuring stylish interchangeable bra straps from dainty to daring.
Each high-quality decorative bra strap is exclusive to the BRA-sériē brand, as Tammi takes pride in designing products that are not only visually appealing, but easy to use. With BRA-sériē, women can freely experiment with different aesthetics, effortlessly infusing color, shine and texture into their existing wardrobes. 
With BRA-sériē, women don't have to hide their bra straps any longer.
Why you should support this business: Through BRA-sériē — a business operated by women, for women — Tammi's mission is to create a global company that inspires personal expression and promotes a positive self image for women of all ages.
BRA-sériē is an innovative brand revolutionizing the way women think about their bra straps. Thanks to the creation of BRA-sériē, they are no longer just necessary part of our undergarment but a stylish accessory that can be used to accentuate a woman's shoulder and add a touch of personal expression.
Tammi is also a strong advocate and active supporter of other women-owned businesses. As part of her brand's initiative to give back and "do good", Tammi launched a global movement called WO3, dedicated to supporting women in three ways: Partner, Promote and Support.
Jennifer Ger and Suzie Chemel – Co-founders, Foxy Originals
All Foxy Originals jewelry is proudly designed and made in their Toronto studio, where a small production team of skilled craftspeople assembles each piece. The team takes immense pride in their workmanship, and their dedication to quality is evident in every Foxy creation. Recognizing the importance of local production, Foxy believes in reducing their carbon footprint and contributing to the creation of local jobs.
The journey of Foxy began in a University dorm, where best friends and business partners, Jen and Suzie, discovered their shared passion for jewelry and accessories. Over the course of two decades, their venture has transformed into a global brand. Throughout this time, their primary focus has been on crafting jewelry that seamlessly transitions from everyday wear to special occasions, providing a touch of sparkle when it matters most. They understand that even the smallest details can elevate an outfit and boost one's confidence.
Despite their success, Foxy remains grounded and prioritizes quality above all else. Their commitment to excellence has garnered attention from prestigious outlets such as Oprah's Favourite Things, InStyle, and Elle—an accomplishment that makes them blush with pride. However, they consider their greatest brand exposure to be when individuals like you choose to wear their pieces, making them an integral part of personal stories and experiences.
Why you should support this business: For nearly two decades, Foxy Originals has been creating affordable and meaningful jewelry designs, but their true mission is to make every customer feel beautiful and confident.
They invite everyone to discover their shine and embrace a mantra of balance, beauty, inner strength, and joy in life's simple pleasures. Whether it's a sunny walk, a new skincare routine, a warm hug, or a delicious martini, Foxy Originals inspires customers to ignite their inner spark, to love themselves and radiate certainty.
Conclusion
I hope you found some inspiration, from reading about these amazing mompreneurs and their businesses. Are you a mompreneur too? Please share any helpful tips on how you've been balancing raising kids while building a career or business.