3 Helpful Networking Tips For Shy Entrepreneurs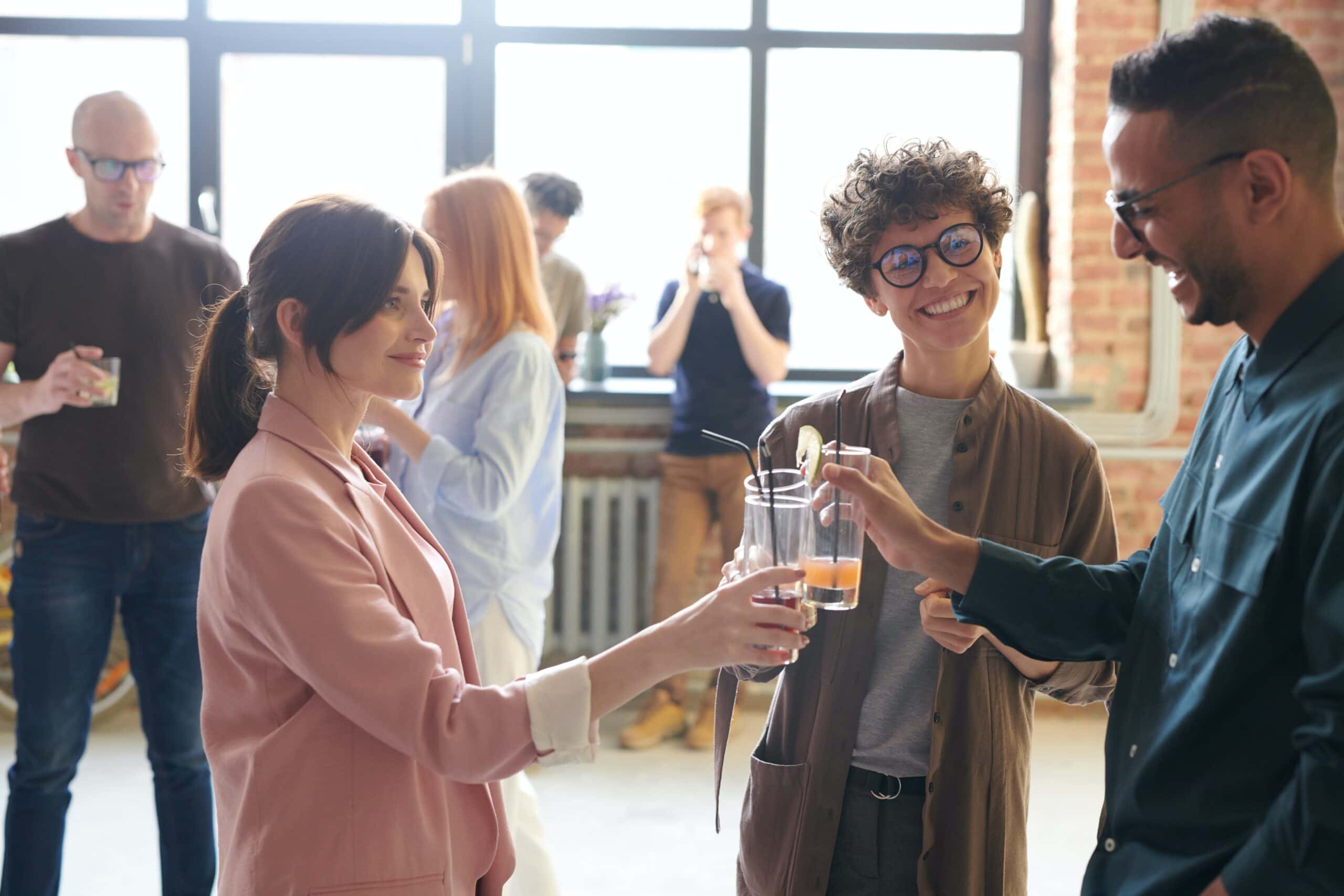 Activate your "Boomerang Mindset" and Have Fun at Networking Events
Networking expert Casey Jacox shares his advice and story on how to make meaningful connections
When I network, all I tell myself is: I get the chance to meet a new friend and look for ways to serve and help the other person. The more I look to help people, the more positive vibes will come back in my direction. I call this a "boomerang mindset". -Casey Jacox, Speaker, Author, Executive Coach, & Podcaster
I know what you're thinking. You are too shy to mingle with strangers, right? Networking is designed for the extroverts, not types like you who would rather work on your business quietly, "behind the scenes".
The initial thought of talking to strangers at a public event might make you tremble with anxiety and want to hide in the bathroom—I certainly used to feel that way! But according to networking expert Casey Jacox (whom we met through our network!)—if you replace your anxiety with positivity and curiosity, you will discover a new world of possibilities—to make meaningful connections, help other people, and gain more business opportunities.
Casey Jacox spent over twenty years in business development, sales leadership, and executive leadership. When he started his career, networking at events was intimidating for him too, but over the years, he's learned to love it!
Casey currently works as a speaker, author, executive coach and podcaster in Maple Valley, Washington, USA. And today he's taken a moment in between speaking engagements to share with us his wisdom on networking!
After you're done reading Casey's story, keep scrolling to get more networking tips on what to say and do at your next in-person or virtual event.
Casey's Advice and Experience in Networking
How do you feel about networking?
Casey: When I think of networking, it boils down to having the right curious mindset. When we show up at networking events or even look to network on LinkedIn, we have a choice. We can view what might happen in a good way, OR we can go in with a negative mindset about how hard this is, or by telling ourselves, "I'm not good at networking."
When I network, all I tell myself is that I get the chance to meet a new friend and look for ways to serve and help the other person. The more I look to help people, the more positive vibes will come back in my direction. I call this a "boomerang mindset".
What is one memorable story you have from your networking experience?
Casey: One story that comes to mind is from when I started my consulting company. Just after Halloween in 2021, I dressed up as my favorite TV character Ted Lasso. Yes, the entire costume, including a fantastic mustache! Instead of shaving the stache before the event, I decided to keep it as a way to be memorable and a way to use it as a conversation starter. Let me be clear, I was super embarrassed as most classic mustaches went out of style in 1974—no offense to the person who has a mustache and is reading this. 
As a sales and leadership consultant/coach to multiple industries, I can look back and still converse with numerous people I met that night who still remember me as "the guy with the stache."  I would end up meeting many different people that night. Some would help me find new clients, and some I would help to find new clients.
I challenged myself to go around the room and not be afraid to join a conversation. Earlier in my career, I was intimidated by these events, but I continued to tell myself, "We are all here to network."  Once I truly believed this mantra, I found my confidence rising, and the fear went away to talk with many different people.  
Nearly two years later, I am still using this mindset of curiosity to meet people each day and, more importantly, go out of my way to help others connect. Being intentional about networking, and seeking ways to connect with others in my network will continually improve and grow the number of relationships in my life.
What are the benefits of bringing positivity and curiosity to networking?
Casey: By taking a positive & curious mindset into networking, you will accomplish the following:
Meet new friends,

Build your confidence

Meet new potential customers

Find ways to help others in your network be successful
If these outcomes sound favorable, I hope you challenge yourself to get "uncomfortable" and choose a growth mindset by networking with others in-person or virtually.
Thanks again to Casey Jacox, for helping us to frame what it truly means to network and the value it can bring to the individual and their community. We hope to collaborate with you again in the future!
Now You Try it!
What can you say and do at a networking event?
First of all, be yourself. Next, follow this little checklist to help you get out there with confidence!
1. Prepare Ahead of Time:
Statement that clearly explains your business
Example:
"Hi, my name is Jane and I am the owner of XYZ t-shirt company. We sell t-shirts that are locally made from recycled cotton, for customers looking for everyday sustainably made basics.
Statement of your goals or main business challenges
Examples:
"I'm looking to connect with and learn from other individuals that incorporate upcycling in their processes."
"I am struggling to find local suppliers of natural dyes."
Updated website and social media profiles (because people will definitely look you up after you chat)
Business cards to hand out (you'd be surprised at how useful business cards still are these days!)
2. Engage, Ask and Exchange:
Example:
"Hello, Steve, nice to meet you, I see that you work with ABC company. Can you tell me about your organization and what you do there? What brings you to this conference?"
Exchange contacts and offer to help
Example:
"What are some of the challenges that you're facing right now? I might know someone who can help with your problem. Let's stay connected. Here's how you can find me. What's the best way to get in touch with you?"
3. Follow up:
Send an email or direct message on social media
Example:
"Hi Steve, it was really nice meeting you at Apparel Camp last week. I'd like to learn more about how your company does ______ . Would it be possible to schedule a time to chat in the next couple of weeks?
"Hi Jane, it was nice meeting you at Apparel Camp last week. It was interesting to hear your perspective on _____.  Let's continue to stay in touch and keep each other posted on how our businesses are doing!"
Follow each other on social media
Reach out regularly to your contacts to check in on how each other is doing
More Networking Resources:
In-Person Trade Shows are Back! Here's a list of 2023 fashion industry trade shows:
Listen to our Podcast on Preparing for Trade Show